Sewol disaster packet lifted in South Korea after 3 years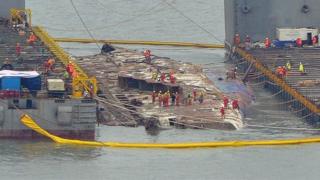 A packet has been lifted from a sea bed, 3 years after it sank in one of South Korea's deadliest disasters.
The Sewol sank off a south-western island of Jindo on 16 Apr 2014 murdering 304 people, roughly all propagandize children on a trip.
It has been winched to a aspect so a height can be extrinsic underneath it for it to be towed ashore.
It is approaching to arrive during pier in reduction than dual weeks, where it will be met by a families of victims.
The bodies of 9 victims are believed to still be trapped inside a fallen ship, and lifting it was one of a executive final of their families.
The supervision bent to vigour to lift a 6,825 tonne vessel, one of a many formidable operations ever attempted, pronounced a a BBC's Stephen Evans on Jindo Island.
The 16-year-old daughter of Huh Hong-Hwan was one plant whose stays were never found.
"To see a Sewol again, we can't report how I'm feeling right now," Mr Huh told a AFP news group as he watched a lifting of a vessel from a vessel nearby.
The falling was blamed on a multiple of bootleg redesigns, load overloading, a unawareness of a organisation member steering a vessel, and messy supervision regulations. The ship's captain was after convicted of murder.
Anger over a response of a authorities after a disaster contributed to a unpopularity of former President Park Geun-hye, who was recently ousted.
Short URL: http://agetimes.net/?p=202267