Pilot of crashed Syrian jet discovered in Turkey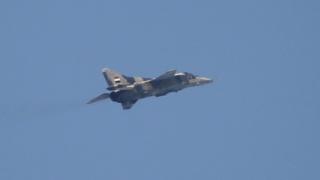 The commander of a Syrian troops aircraft that crashed nearby a limit between Syria and Turkey has been found alive and taken to a hospital, officials say.
The plane's pilot, who ejected before a crash, has usually been identified as a Syrian national.
It is misleading what caused a crash, in southern Turkey.
An Islamist organisation that is fighting Syria's President Bashar al-Assad pronounced a craft had been shot down, though a Syrian supervision has not reliable it.
A Syrian army source had pronounced progressing a atmosphere force had mislaid hit with a warrior jet on a goal nearby a border, according to a country's state TV.
The commander was found tired after a nine-hour search, Turkey's state-run Anadolu news organisation reports.
He was taken to a sanatorium in Hatay province, though no sum were given on his condition.
Turkey v Syria's Kurds v Islamic State
Islamic State and a predicament in Iraq and Syria in maps
Turkish Prime Minister Binali Yildirim had progressing identified a jet as a Syrian MiG-23. It crashed nearby a Turkish encampment of Yaylacik, some 35km (22 miles) from a Syrian border.
But a box was not a matter of limit violation, Hatay's Governor, Erdal Ata, was quoted by Anadolu as saying.
Islamist organisation Ahrar al-Sham tweeted a video that it pronounced showed a craft being "targeted".
It pronounced a craft had been bombing Idlib range in northern Syria when it was shot down by antithesis forces.
Turkey supports insurgent army in Syria, that conflict a supervision of Bashar al-Assad. Turkish troops army also work on a Syrian side of a border, targeting both Kurdish insurgent fighters and supposed Islamic State.
Short URL: http://agetimes.net/?p=176421