Scottish heads to get £3.5m support scheme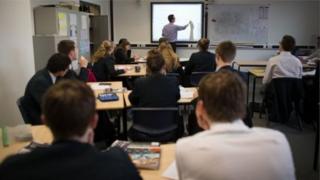 Head teachers are to be offering a new package of training support as partial of a £3.5m Scottish supervision scheme.
The Excellence in Headship programme aims to assistance propagandize leaders "improve vicious self-awareness, care of learning, lead complement change and organisational effectiveness".
Education Secretary John Swinney done a proclamation in Edinburgh.
There will also be a Holyrood statement about expanding early training support and childcare after in a day.
Mr Swinney also announced a £3m partnership with a Hunter Foundation for a array of care academies.
Launching a account during Queen Margaret University, a emissary initial apportion said: "Effective propagandize care is pivotal to a success of schools. As a result, it is critical we deposit in a conduct teachers and support them to broach glorious drill for children in Scotland.
"I am gay to announce that Excellence in Headship is now open for recruitment, corroborated by £1.6m of Scottish supervision appropriation over a subsequent 4 years.
"In addition, a Scottish government, in partnership with a Hunter Foundation, will support care academies delivered by Columba 1400 that will advantage 320 conduct teachers in a initial year.
"The conduct clergyman purpose is severe though hugely rewarding and we wish to support teachers to take a step to headship while also committing to ancillary conduct teachers already in post."
'Pace of change'
Sir Tom Hunter reliable his foundation would deposit £1m over a subsequent 4 years, alongside £2m from a government, towards a care academies.
He said: "Education is a enabler, a leveller of personification fields, though to broach that we need good care in a schools.
"The gait of change in a universe of work is an implausible plea for a propagandize leaders and teachers – 65% of a immature people fasten primary propagandize this year will go to jobs that don't even exist today.
"So, rightly, we need to deposit some-more in ancillary a propagandize leaders and that's because we are gay to be investing £1m alongside a Scottish government's £2m into world-class propagandize leadership.
"In addition, a Hunter Foundation intends to build a world-class alumni programme for educational leaders opposite Scotland to raise and build on a value that Columba 1400 will broach in leadership."
Short URL: http://agetimes.net/?p=202623