Facebook SOS as criminal found in pub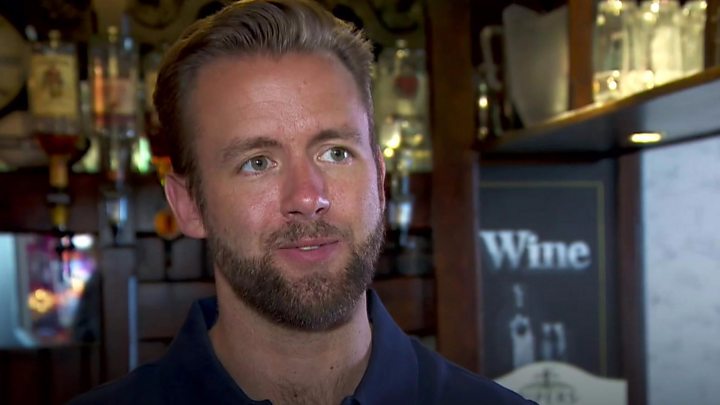 A pub owners who trapped a criminal posted an SOS on Facebook for assistance when he pronounced military told him it was not an emergency.
Andrew Forster, who owns a Wellington Inn, in Preston, detected an antagonist in one of a bedrooms during about 15:30 BST on Saturday.
He pronounced a throng collected during a pub to assistance after his amicable media interest before military arrived an hour later.
Lancashire Police pronounced it regretted a check though no patrols were available.
Power of amicable media
Mr Forster pronounced he was repelled when a manager of a pub, who done a initial 999 call, told him military would not be responding as an emergency.
He afterwards put a defence out on Facebook seeking for assistance on what to do with a criminal he had trapped in a bedroom.
His crony shortly arrived – along with others – and helped him reason a doorway shut.
He pronounced he was told off by a call handler when he done a second call as it was "not an emergency" and he should call 101.
Lancashire Police pronounced a user suggested a tourist they were "experiencing a high turn of direct and would get someone there as shortly as we could".
The force pronounced it arrived during a pub in Glover's Court during 16:33 BST and a lady was arrested.
Mr Forster said: "I know they are understaffed.
"I'm not indignant with a military though I'm indignant with how they dealt with it."
The 35-year-old pronounced a response on Facebook showed a energy of amicable media.
"It is a poetic village pub and it was good people came here charity their support."
Lancashire Constabulary pronounced in a statement: "We bewail that we were incompetent to attend a occurrence sooner, however, unfortunately due to a bustling duration of direct and a series of ongoing incidents opposite a area there were no patrols accessible to attend during that time."
It combined a lady had given been charged with burglary.
More from my site
What we learned about Hillary Clinton after listening to her new podcast
App-only bank Mondo is changing its name next week
A lawsuit forced Uber to explain why it deactivates drivers
Facebook will announce its fourth-quarter earnings this week — here's what to expect (FB)
5 Facebook Live streams that defined the news in 2016
Facebook is spinning off Events into a separate app, but don't freak out
Millennials can't get anything done at work because they're wasting time on social media
Facebook is changing the News Feed again, and publishers should be worried
Short URL: https://agetimes.net/?p=248393
Posted by
F11
on May 13 2017. Filed under
Tech
. You can follow any responses to this entry through the RSS 2.0. You can leave a response or trackback to this entry